Pocket Folder Printing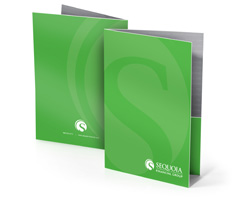 Presentation Pocket Folders
Standard Turnaround - 3-5 Business Days
Faster Turnaround Available
Fanatical Customer Service
No Hidden/Extra Charges
Most File Formats Accepted


---

The Place to Put It All
Personalized presentation folders will pull together all your talking points in one great take-away. Typically, what starts out as a place to stash your business card, your brochures, or your catalog, becomes an effective marketing tool for you to include so much more.
You can add your customers' testimonials to how great your business is to them, relevant articles from trade papers or the New York Times, or a bookmark that repeats your web address and your logo. Folders at trade shows become a home for your notes and contact information and they can play an important role in recruiting your staff or sales personnel by letting them know more about your business.
Printed, custom, die-cut folders make a graphic presentation of your work, too. It's your chance to send out an overview of your business, or just one great idea - in an attractive package. Your customers will see the thought you put into this presentation and know that you care about their business as well.