Image "Bleeds" and "Safe Print" zones ... "Bleed" is a printing term used to indicate the area with a background image that will be trimmed off after the file is printed and cut down to the finished size. Since the bleed area will be trimmed off during the cutting process, there should be no text or other important information in the bleed area. Projects that make use of image bleed should extend any bleeding background and/or images 1/8" over the final paper trim edge. We also recommend all other text and graphics stay inside a "Safe Zone" printing area which stays inside the final paper trim edge by about 1/4". This ensures a more professional appearance and eliminates any risk of type or images being accidentally "nicked" during trimming.
Printing with Bleeds
If your image has a white border on all four sides, bleeds are not required. Prepare your files at the exact dimensions of the desired output.
If your image is not white on all four sides, you MUST include bleeds in your files. Add one eighth of an inch (.25") to each dimension to allow for cutting. For example, a 4" X 6" postcard with a full bleed, the image size should be submitted at 4.25" by 6.25" (red box above). 125" (1/8") on each edge of the card will be trimmed off during the cutting process. This will leave you a 4" X 6" inch standard post card (black box above).
Your type (text) should be .25" inside of the cut box, represented by the blue safety box.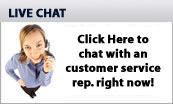 We welcome the opportunity to quote on your next printing job

Live Chat, Toll free number, and rapid email response. We're here for you!!!


1-877-624-8110